American Equity performs among the Top 3 brands for Overall Customer Satisfaction among the 15 award-eligible individual annuity providers evaluated in the J.D. Power 2020 U.S. Life Insurance Study. American Equity also earned a score of 801 on a 1,000-point scale, which is a 14-point increase from 2019 in addition to outpacing the segment average of 778 by 23 points.
The J.D. Power 2020 U.S. Life Insurance Study is a syndicated benchmarking study that evaluates the experiences of customers from the largest annuity and life insurance providers in the United States. The study measures overall customer satisfaction based on performance across the following five factors: Communication; Interaction; Price; Product Offerings; and Statements.
American Equity Achieves Highest Score for Price
In addition to American Equity 's significant performance improvement this year, they also achieved the highest satisfaction score for Price. The Price study factor is the second most important factor for overall customer satisfaction in this study. Consumers' satisfaction with Price highlights the value provided by the carrier throughout the relationship. The long-term nature of an annuity relationship means value is incredibly important to customers.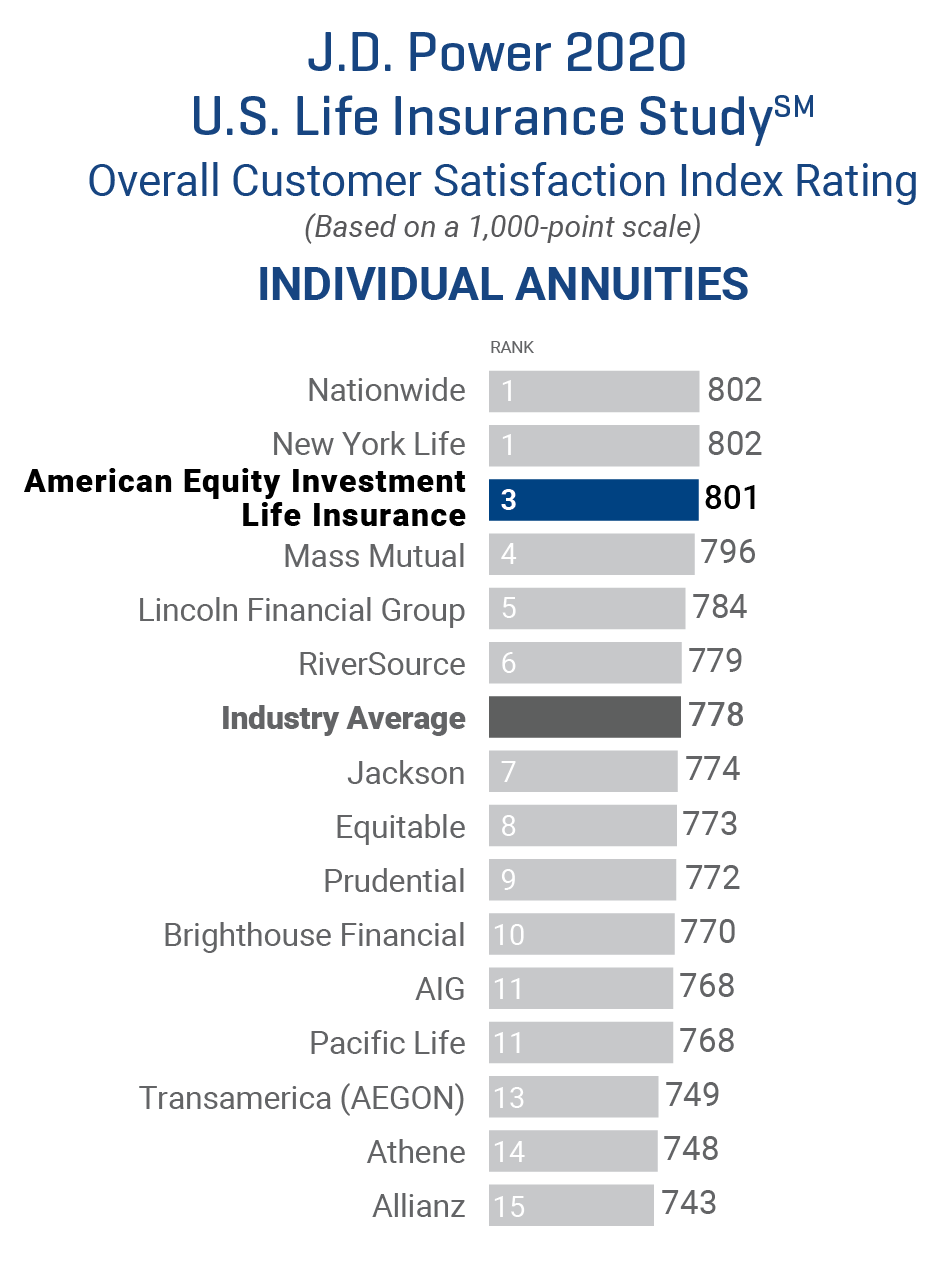 AMERICAN EQUITY WAS FOUNDED ON THE IDEA OF GREAT PEOPLE PROVIDING GREAT SERVICE. OUR FOCUS ON THIS VALUE HAS NOT WAVERED OVER THE LAST 25 YEARS IN THE ANNUITY MARKET. WE ARE EXCITED TO SEE J.D. POWER SHINE A LIGHT ON THIS VITAL INDUSTRY METRIC, AND WE ARE PROUD OF OUR CONSISTENT PERFORMANCE HERE.
ANANT BHALLA
CHIEF EXECUTIVE OFFICER – AMERICAN EQUITY